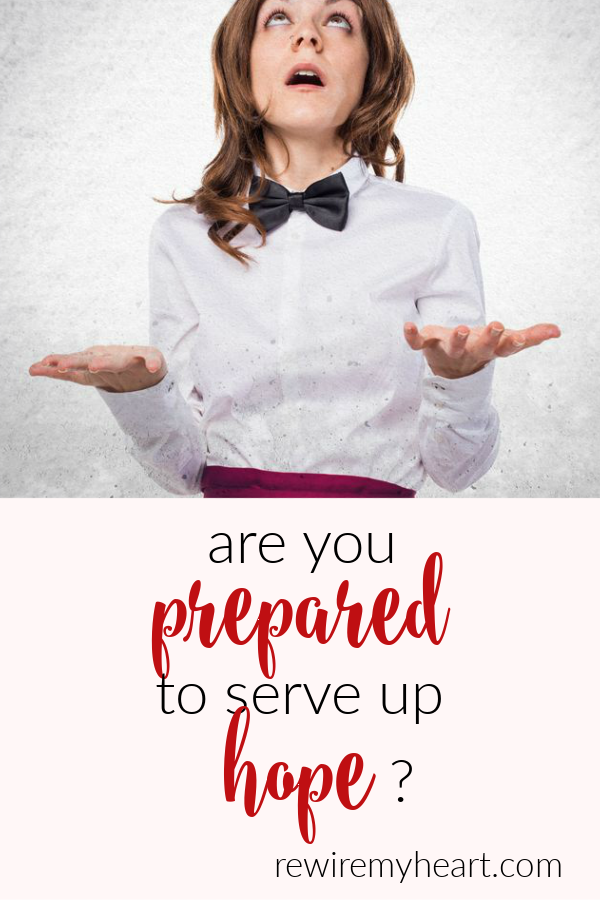 i was running behind. As usual.
A little stressed and out of breath, i quickly ran inside the restaurant to meet my friend for breakfast. i had already kept her waiting too long.
As i rushed to find her table, a waitress stepped in front of me and snapped, "Where are you going?"
i told her i was meeting a friend who was already seated. "Oh, you must mean her." She abruptly waved her hand in my friend's direction and rolled her eyes. "Go ahead," she barked in an exasperated tone.
Honestly, i was annoyed, but i simply smiled and said, "Thank you."
Not sure what i did to deserve that greeting. Lord, give me patience, i thought.
My friend hadn't exactly been getting the royal treatment either. "i think our waitress must be having a bad day. She hasn't said a nice word to me since i sat down."
And since my friend is literally one of the sweetest women i know, i couldn't imagine she had done anything to provoke her displeasure.
waiting for a sign
We both looked at the menu, made our selections and waited for her to come take our order.
And waited.
And waited.
And waited.
She seemed to be deliberately avoiding us.
A couple of times she glanced in our direction, but quickly looked away. Once she even stopped for a moment and looked briefly at a stack of books i had on the table. But when we tried to engage her, she quickly moved on.
Finally she came to our table.
i braced myself for the worst.
But her demeanor seemed a bit softer.
"Before i take your order, can i ask you something? Do you all believe in God?" she said. "Ever since you guys came in, i've felt really drawn to you. And then i saw your book on the table. It seemed like a sign. i'm really going through a rough time and i feel like i'm supposed to talk to you, but i've kind of been fighting it."
This was the book she saw: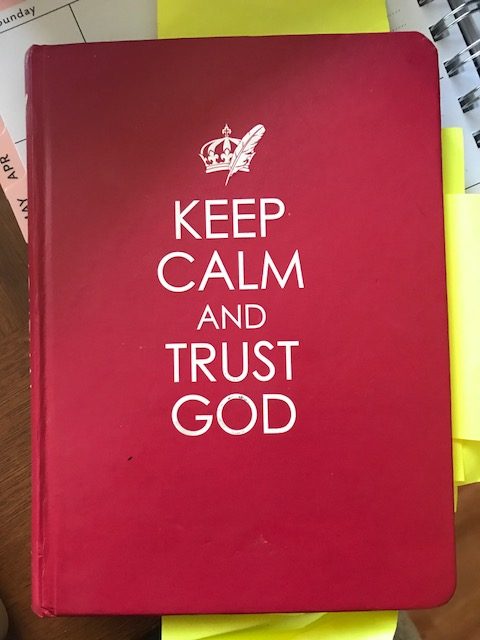 Wow.
We told her that yes, we did, in fact, believe in God and asked her how we could help her.
It was like a dam burst.
With a coffee pot in one hand and tears streaming down her cheeks, she began to share her broken, painful story.
It was a mixture of consequences of poor choices and terrifying, exhausting circumstances that were not her fault and beyond her control. The stress of it all had pushed her marriage to the brink of divorce. She felt helpless and hopeless, and after years of sobriety, she had turned to alcohol again to cope.
"I grew up in church. I used to be close to God, but it's been so long. i'm not even sure how to find my way back."
We shared with her the incredible grace of a God who is always waiting with open arms. That no matter how overwhelming and difficult her circumstances, God could bring hope and healing.
He could make a way — one step at a time — where there didn't seem to be a way.
We invited her to church and shared information about some local and church resources. Places where loving people could come alongside her and help her find the healing and support she needed. We gave her our contact information and told her to reach out.
She wasn't alone. God was there, right beside her. And He was giving her tangible evidence of that today — through a couple of unwitting, somewhat annoyed customers that Jesus was mercifully still able to use somehow. It just always amazes me how He can use often clueless, self-focused humans to show His love. To serve His hope.
We asked if we could pray with and for her. Right then and there. She nodded her head.
Yep, right in the middle of breakfast "rush hour" we were having church.
"Now I really do need to go … before i get fired," she said with a laugh.
A genuine smile.
In fact, everything about her looked lighter.
"I can't tell you how much better i feel after talking to you. i just need to remember all those things we talked about when i feel the anxiety start again."
i looked down at a cherished cross necklace that a friend had recently given me.
i knew immediately i was supposed to give it to her.
"Here, wear this. Every time you look at it, remember to pray." 
For the rest of our time there, we observed a changed woman. She had a smile on her face and a spring in her step.
the promise of hope
Her circumstances hadn't changed, but now she had hope. She had been reminded of the God of her childhood who has limitless power, overwhelming love and boundless grace — a Guide who promises to never leave her or forsake her.
He may not fix all our problems, but He will always give us His strength. love and wisdom in abundance. All we have to do is ask. As we seek Him, Hope shows up in the form of a Person. And once we truly experience His amazing love in the depths of our souls, we are never the same.
Our waitress wasn't the only one changed by our encounter.
i was lovingly reminded of how guilty i can be of making assumptions about people without knowing their story.
Of my human tendency to want to serve up attitude when i feel slighted or attacked.
i felt God say to me, "Don't assume things. Just recognize My Presence and follow where I lead."
We never know what hurting soul God might place across our path.
May we always be prepared to serve up Hope.