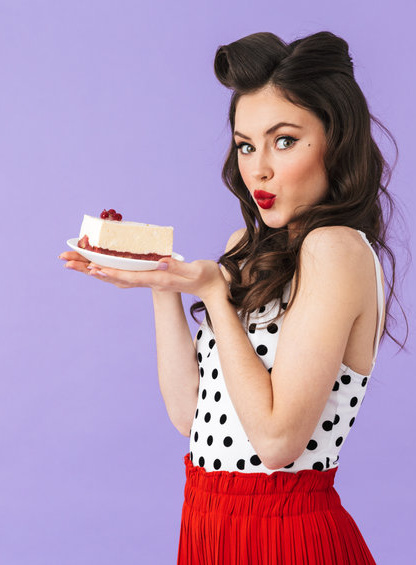 After years of flavorless, restrictive eating, my tastebuds had finally been set free.
But this amazing liberation didn't begin in my mouth.
It began in my mind.
God had pulled me away from so many of the things that had been cluttering my brain and heart. Social media, non-stop news cycles, busyness … even ministry. As the chaos in my mind began to subside, I began to see Him more clearly.
And i was astonished by the view. He was not the Lightning Bolt God that I had believed Him to be since childhood.
The loving God who I felt like I was meeting for the very first time began to heal wounds in me that I didn't even know i had. And He was sweet beyond belief.
This mental, spiritual and emotional healing began to have an amazing impact on my body. Over the years, autoimmune disease left me in chronic pain and only able to eat about 12-15 foods without pain.
As my body began to heal, my pain began to gradually decrease and my countless food sensitivities began to slowly disappear.
One day last summer, God clearly told me it was okay to start expanding my diet.
I tentatively dared to eat vanilla yogurt (gasp!) for the first time in years.
You would think that once I got the green light, i would go wild on cupcakes and Kit Kat bars.
But when you are used to food causing pain, it suddenly loses much of its appeal.
today's new thing
I wasn't anxious to jump into a food-eating frenzy with both feet for another reason as well.
Early on, I recognized that God was leading me on a journey of rediscovery. Rediscovering old foods and viewing them in a new way — through His eyes.
And I knew instinctively that this journey was best savored and taken slowly.
I also quickly realized that God was leading me to one "new thing" each day. It started out with "new" foods. But it would also sometimes be a new item or a new insight that would have special and powerful significance to me.
My sweet Heavenly Father was showering me with gifts. Each gift revealed or reinforced a truth He was teaching me. I woke up each day during this time with great anticipation to discover "Today's New Thing."
As I continue to share His story that He's telling through me, I will continue to share about these "new things" He has helped me discover. Perhaps they will encourage you too.
Divine cheesecake
But back to this particular day, in late June 2017 … I pulled into the mall with my son, Micah, for some early back-to-school shopping. We began to discuss where we should grab lunch.
Just then, we passed by The Cheesecake Factory. Without even thinking, I immediately said, "We should eat there." Micah quickly agreed.
I hadn't eaten at The Cheesecake Factory in years. And i honestly didn't really expect I'd eat cheesecake. i just thought my son would like it.
But as we got ready to order, I looked at the dessert menu. Something i hadn't dared to do for a very long time. I spotted "Low-Carb Strawberry Cheesecake." I knew immediately that was my "today's new thing."
I had been eating low-carb for some time. And I used to love strawberries, but had to give them up. I was highly sensitive to them. This dessert seemed like a good combination of familiar and adventurous.
When the cheesecake arrived, I was a little surprised when it came in three parts, with the strawberries, cheesecake and whipped cream separated. Not complaining … just sayin'…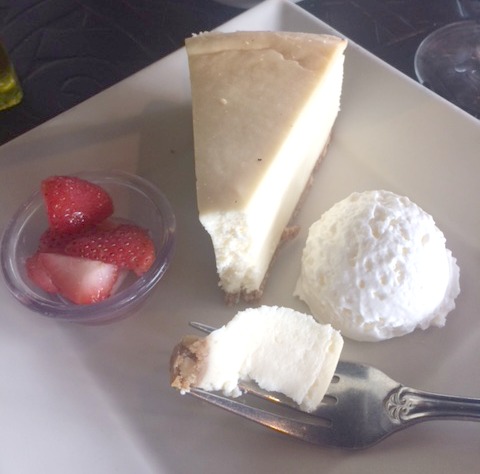 I took a bite of just the cheesecake and it was DE-LICIOUS. Better than i even remembered.
Than iItook another bite with a little whipped cream added to the cheesecake.
A-MAZING!
Finally, in the next bite, i combined the three and experienced them all together.
Off the charts DIVINE!
Immediately, I felt God say to me, "That is the Trinity, Melinda! See how sweet it is when you experience all three aspects of who I am."
the Holy Trifecta
So many times, I had read the words in John 14, but I never really understood them in my heart. In this chapter, Jesus was speaking to His disciples. They were asking Him to show them God the Father.
This was His reply: 
"I am the path, the truth, and the energy of life. No one comes to the Father except through Me. 

If you know Me, you know the Father.

Rest assured now; you know Him and have seen Him." (v. 6)
A few verses later, He says it again: "If you have seen Me, you have seen the Father." (v.9)
Since childhood, I have understood the tenderness of Jesus. I saw Him for who He is — a gentle, approachable, loving Savior.
But over the past year, for the first time, I understood in my heart, not just my head, that the sweet, loving, approachable Jesus that i always related to and felt safe with … He is an exact representation of God's character and nature. Jesus is God with skin on.
Jesus came to earth to die for us, but also to live in such a way that we could see, in human form, the beautiful nature of God the Father. We didn't have to guess what God was like. In the Person of Jesus, He came and showed us. Even though we never saw Jesus, we can picture what we think He looked like. He actually walked this earth. We can know HIs heart through the words Jesus spoke while He was here.
When Jesus left this earth, the Holy Spirit became our Reminder, our Energizer, our Comforter and too many other wonderful things to name."The Father is sending a great Helper, the Holy Spirit, in My name to teach you everything and to remind you of all I have said to you." (v. 26)
i had often recognized and experienced the sweet whispers of the Holy Spirit, reminding me of truth and empowering me to overcome my weakness.
The Holy Spirit has often been the voice in my ear urging me to not give up when life had overwhelmed me to the point of despair. He would whisper reminders of God's love and grace when I wanted to wallow in crushing shame and guilt.
Now I was adding a third member to the Party. I was experiencing a relationship with my Heavenly Father as He truly is — without the barrier of legalism and fear that had always stood between us,
i had hit the Holy Trifecta.
And it was sweeter than anything I could have ever imagined.
All that from a slice of cheesecake. It truly is Divine.