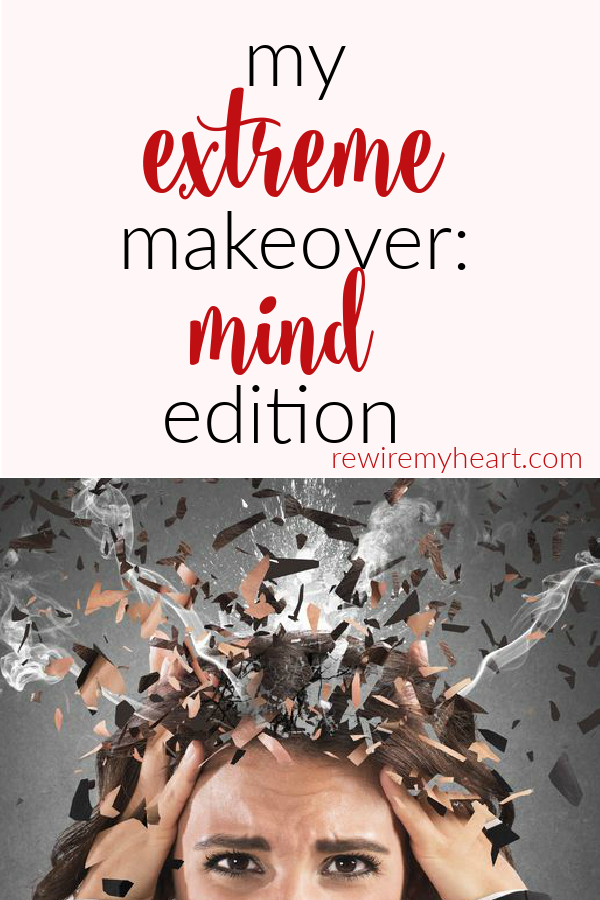 The transformation was always amazing.
It's been off the air for a while now, but Extreme Makeover: Home Edition literally changed people's lives.
As you may remember, the show's crew recreated and reconstructed houses that were badly damaged or woefully inadequate. 
But it was about so much more than a new house. They gave families a much more precious and beautiful thing.
They gave them a home.
The crew transformed a space that was cluttered, chaotic and broken and made it a place of warmth and peace and rest. 
It reminds me of what God has been doing in my life over this last year.
After more than 20 years of chronic illness, my focus has always been on healing and fixing my body. It always seemed most in need of an "extreme makeover."
In reality, my mind was much more cluttered, chaotic and broken. 
no place to rest
I have a fair amount of experience with mental health issues.
My family history is full of tragic stories of battles with anxiety, depression, bipolar disorder, dementia, attention deficit disorder … just to name a few. In fact, nearly every single member of my family stretching back for generations has suffered from some kind of attack on the mind.
For me, it has always been anxiety. It started back when i was a little girl.
i honestly can't remember a time when i didn't have an uneasy feeling in the pit of my stomach.
If things weren't going well, i was anxious. Maybe i wasn't doing something right. Was i being punished? Did i cause this to happen? Could i have prevented it?
If things were going well, i was anxious. i don't deserve this. This can't last. What if "X" happens? When is the other shoe going to drop? What could i or should i be doing now to prevent it? 
You know what anxiety feels like? Torment. 
My anxiety could be triggered by a whole host of factors, but for me, i now realize it all stemmed from one belief i held: It all depends on me.
By "it" i mean, well, basically everything: my kids turning out right, my financial future, my husband's happiness, work, ministry, my health …. an endless list.
This is hard to admit, but i didn't trust God. I didn't trust His ability to work things out despite my mistakes. i thought it all depended on my worthiness and performance, rather than His amazing mercy and grace.
Torment has to be relieved. So i worked hard to stay distracted.
If i kept my mind busy enough, i could keep a "safe" distance from a God who i believed was never truly pleased with me. And i could push all the "what ifs" out of my mind at least for a little while.
a real fixer upper
Two years ago, i finally ran out of energy to try to control and fix everything.
But realizing my need to let go of control and living a life of trusting God are two different things. The first can happen in a moment. The second requires a moment-by-moment level of dependence. It requires a total mind and heart makeover.
For me, it required a whole new view of God.
2017 has been the year of the mind makeover.
Apparently, in God's sovereignty, He realized i was finally ready for Him to peel back the lies i'd believed about Him — to begin to see Him as He truly was. Loving. Full of grace. Slow to anger. Mighty to save. Intimately involved in directing each of my steps and missteps and working them all for my good.
For perhaps the first time, i started to truly believe all of that in the depths of my being.
i wanted to see and experience this new (to me) God more deeply and clearly. i began to intentionally remove the mind clutter — TV, social media, all the pointless, empty busyness.
But i gotta be honest. Without all the distraction, I didn't know what to do with myself. It is really hard to be still. To allow our minds to rest from all the spinning and activity and figuring out and constant problem-solving.
i began to pray that God would show me what i could do to unwind and relax and soothe my mind. What could i focus on that would occupy my mind, but in a good and healing way? A way that would draw me to Him, instead of away from Him?
A friend suggested adult coloring. It didn't really excite me, but i thought, i'll give it a try. While i was online looking for  coloring book to buy, i started to stumble across some information about hand lettering. That intrigued me. The more i discovered, the more excited i got. Maybe this was "the thing" i'd been looking for!
i took an online course to learn some basics and was loving it.
Until i got to Lesson #3. For some reason, i just couldn't make myself do it.
Finally i realized why. The whole lesson was about how to get all the lines straight and using a ruler to make sure everything was perfect.
i knew that would suck all the joy out of the activity for me. And i felt God say to my spirit, "You will never use a ruler to do this. You have used a 'measuring stick' your whole life. No more measuring up. No more perfect. Trust Me to guide your hands."
the gift of a new mind
That set me free. Free to create. i wasn't thinking about getting it perfect. i wasn't distracted by a million useless thoughts and distractions. i was just letting the creativity flow.
And i began to discover a gift i never knew i had.
Satan hates creativity. Because He hates the Creator. The enemy has never created anything. He is an imitator, a distorter and a destroyer. That is why he is the master of distraction.
When we remain distracted, when our minds are clouded, it inhibits our ability to create because it inhibits the power of our Creator to work in and through us.
And He longs to create beauty from our ashes, friends.
My Creator had transformed a space that was cluttered, chaotic and broken and made it a place of peace and rest.
My mind has found a new home — in Him.