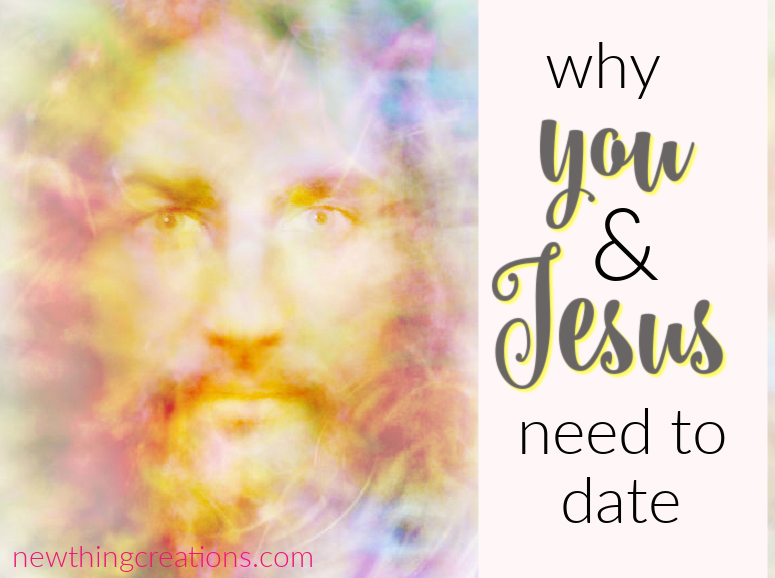 Every day he had to remind her.
They would meet, talk and spend time together. Gradually, he would win her trust. They'd fall madly in love. But then the next day, she would wake up and forget all about him.
It's the plot line of a 2004 movie called 50 First Dates.
In the movie, the main character, Lucy suffered a traumatic brain injury in a car accident. It damaged the part of her brain that enables her to retain new memories. As a result, she lives in a perpetual "Groundhog Day." New experiences fade away, while past memories remain intact.
One day she meets and falls in love with Henry, but since it is after the accident, she continually forgets him. He is undeterred by her forgetfulness. So he pursues her, day after day, reminding her of who he is and of his love.
One day recently, I realized that I am a lot like Lucy. 
Everyday, I talk to and spend time with Jesus and as I do, I fall in love. I just know He is "the One." The One who I can trust with all my heart. I feel safe. I know I have nothing to fear with Him beside me. I feel joy, peace and rest.
But like Lucy, my memory is faulty. I get distracted. Past traumas, events and circumstances dim my awareness and ability to embrace the Love that is right there in front of me. The Love that will never leave me.
stuck on repeat
Our past experiences and beliefs get stored into our long-term memory. Lies, traumas and chronic pain and difficulties that have been continually repeated are firmly implanted in our minds and hearts. We can even get stuck in an unhealthy focus on good things — the "glory days" — of the past.
Old memories are well engrained, like well-worn paths of carpet in your home. New experiences and reminders of His love are there, but we often go back to those old paths. Old beliefs, experiences and hurts.
Old paths may not always be healthy, but they are familiar.  At least we know what to expect.
Like Lucy, we often have more experience with the past life than the new life, truths, love and healing that Jesus offers us. It's easier and safer to remember the pain and the lies than the love.
Or, sometimes we focus on the past becomes it seems better than the present or the future. 
Either way, it keeps us from moving forward. 
We have to repeatedly and intentionally train our minds to focus on the One who is always doing a "new thing" in us and our circumstances. When we focus on the past, not only do we miss the "new thing," we miss Him in the journey. That is the real tragedy.
It takes time after time of remembering, accepting and acting on His love to drive His love from our short-term to our long-term memory banks. As we do, our memory of Him and His love gets easier to accept and embrace. We remember the past, but we're no longer stuck in it.
So what does "dating Jesus" look like?
Well, first of all, pursuing relationship with Jesus is an invitation, not a command. He doesn't demand that you date Him. He wants it to be our choice. He lovingly says, "I'm here. My love for you is always available. I want a deep and continual relationship with you. I died so we could have one. Will you join Me, Daughter?"
Your relationship with Jesus looks different from mine. He created us all so unique. But there are a few principles that I've found make for a good date with Jesus:
You choose to focus on Him. 
The Creator of the universe wants a relationship with you. He is standing right there in front of us.
But Facebook or 1,000 other things seem more interesting. 
That's only true because we often don't choose to focus on Him long enough to allow our barriers to come down so we can truly see Him for who He is.
Removing the heart barriers between us and God takes time. Think about it. At the start of a date, you feel stressed and nervous. You're not quite sure if you'll be accepted. You bring old baggage into the date. Then, as you focus on the other person, you start to let your guard down.
You quit focusing so much on yourself and your own insecurities because you feel safe. You begin to relax and really hear the other person.
It's the same in our relationship with Jesus. As we spend time with Him, focusing on getting to know Him and experiencing his sweetness, we sense His love. The more we focus on Him, the less other distractions seem so enticing. His compelling, captivating love just flat out wins our hearts.
Our focus on the Father is often fickle. His focus on us never fails.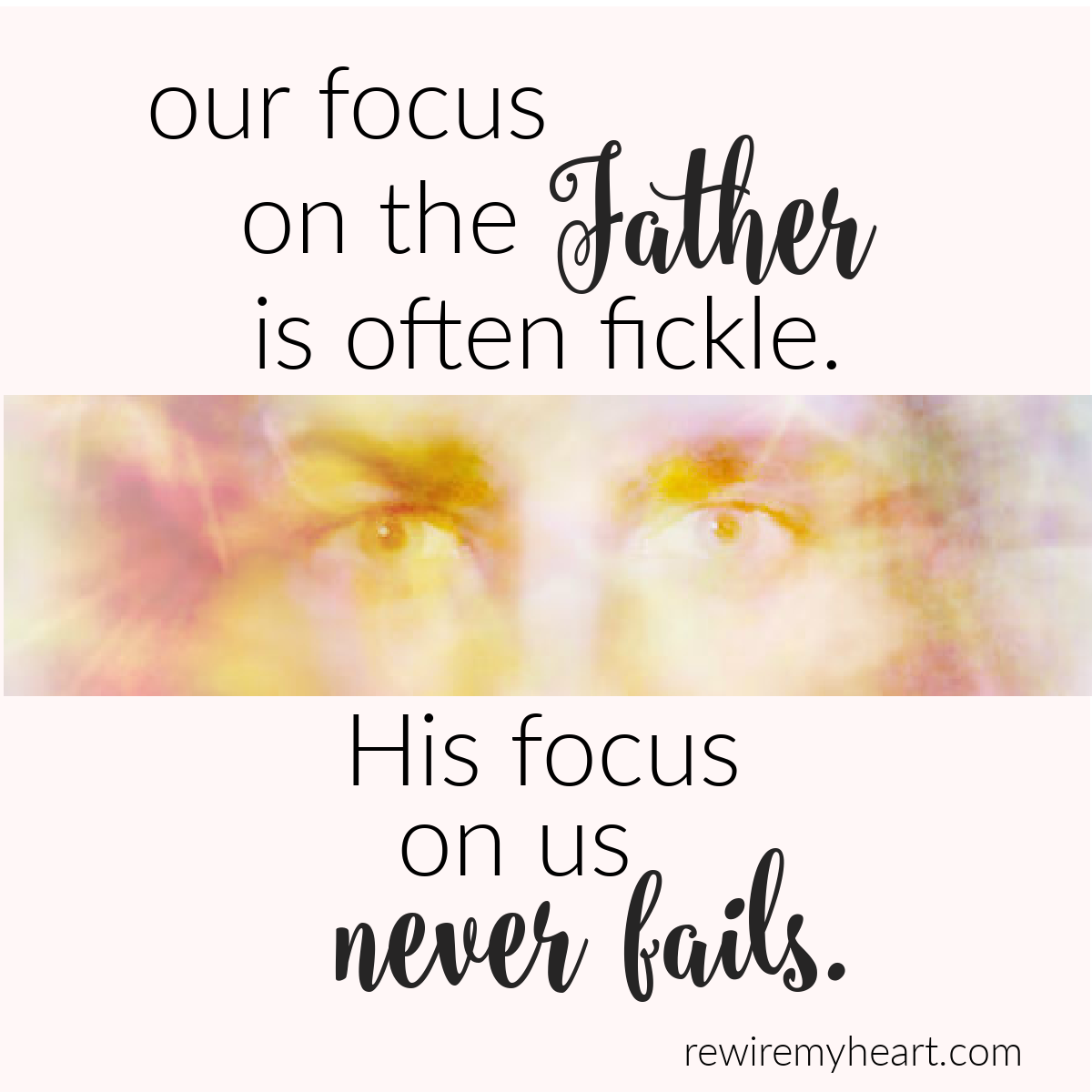 You get to know His heart.
Ever been on a first date that was amazing? And then the more time you spent with that person, the more you realized … Ehhh, not so much.
Jesus is not like that. The more we truly know Him, the more we love Him. And that love is what changes everything. That awareness of His love to the depths of our heart and soul.
Suddenly, we view our past, present and future through a different lens. He opens our eyes to His sweetness, patience and care for us through our past traumas, mistakes and confusion. We gain confidence of His care for us for today and tomorrow.
Every "date" that we spend in His Word, we learn new things about Him. After many years of marriage, I am still learning new things about my husband. And he's a mere mortal. We will never be able to discover everything about our Creator. We will spend an eternity discovering things about Him that will knock our socks off.
And unlike our human loved ones, He has no unpleasant qualities.
It's all goodness. All love. All the time.
Do you want to know God's heart? His heart for us is contained in His Word.
His Word, the Bible, is His love letter to us. John 1:1 says, 'In the beginning the Word already existed. The Word was with God, and the Word was God.'
The Old Testament tells us this:
I am a God of justice. I am your Creator. When man rebelled against me, a price had to be paid. But I loved you so much, I didn't want you to have to pay it. I have a plan.
Then the New Testament says:
I'm giving My Son, Jesus to pay that price. He willingly laid down His life for you. I turned My back on Him at the cross, so I wouldn't have to turn My back on you.
Ever had a date die so He could go out with you? Me neither. But Jesus did.
As we repeatedly read His Word, not just as a Book of facts, but as a love letter, we can hear Him gently whisper, "This is Who I am. Did you forget? Remember Who I am." As we do, His gentle voice of love unlocks our hearts. The intellectual and the emotional intertwine.
You talk to Him all day long. 
Jesus died not only for our salvation, but so that He could have intimate, moment-by-moment communication.
A good date inspires continual conversation. When you love someone and are loved by him, you aren't content to go long periods without talking. You want to tell that person what you're thinking and feeling. The things that are bothering you. You want the other person to know how much you love them.
And you crave reassurances of the other person's love for you. We need daily reminders of the love of Jesus.
In Romans, Paul tells us that we are transformed by the renewing of our mind.
…be transformed from the inside out by renewing your mind. As a result, you will be able to discern what God wills and whatever God finds good, pleasing, and complete. 
Renewal is a continual process. Focusing on the Love of Jesus that is right in front of us is a choice that we have to make over and over again. We get distracted. We worry. We fear. That's when we need to make the choice to reconnect with the One Who loves us.
Through the repetition of talking to Jesus, His love gradually and repeatedly penetrates our hearts.
Jesus will never reject you
Henry never rejects Lucy even though she forgets him time and time again. His love for her remains unchanged.
No matter how many times you forget Jesus, His love for you remains unchanged.  Every morning and throughout the day, He sends reminders of why you fell in love with Him in the first place.
God's love never fades and never fails. But our memory of it does. Our minds forget what the heart knows.
In gentle tones and in words that are personal to each of us, Jesus whispers:
My love is true. My promises can be trusted. You just need to act on them. As you act on them, what you know in your mind becomes embedded in your heart. Focus on Me. It will remind you of My love.
The love of Jesus changes everything. His presence beckons us to live in the present.
And that, beautiful Daughter, is why you and Jesus need to date.
Call to me and I will answer you and tell you unsearchable things that you do not know.


* Note: This is not an endorsement of 50 First Dates, which was overall a "thumbs down" for me, but I found the premise had some powerful spiritual parallels.