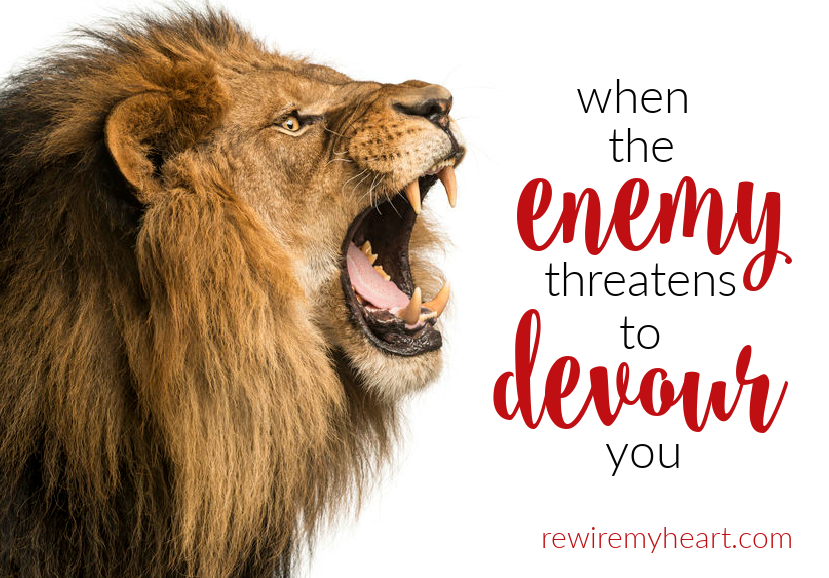 I felt at such peace.
Last fall, my good friend Bonita and I rented a beautiful little lake cabin in North Carolina for a spiritual retreat. No agenda other than to sit at Jesus' feet and listen.
God met us that weekend in impossibly sweet, unexpected and beautiful ways that at times took our breath away. I felt like we were experiencing a little taste of heaven.
My head was in the clouds as I began to take a morning walk down the tranquil, tree-lined road at the end of our gravel driveway.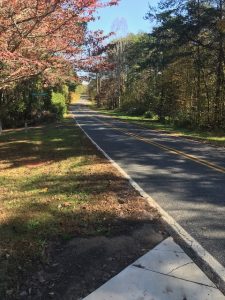 The leaves were at their peak of gorgeous, vibrant shades of autumn yellow, red and orange. Fall came late to North Carolina last year.
We were convinced God delayed it just for us.
As I walked, I was giddy, bursting with gratitude and at complete peace.
As I rounded a bend in the road, everything changed.
Two large dogs suddenly emerged from the woods across the road, just a little distance ahead of me. They were barking, growling and snarling.
This did not appear to be just an "all bark, no bite" type of confrontation. The fangs were out.
I froze in my tracks. I immediately thought of a time when I was in high school walking home from school. I cut across a backyard and suddenly was confronted with a large, snarling dog. Although he was on a leash, I had gotten too close to his territory. I took off running, but he quickly caught me, sunk his teeth into my flesh, leaving me with a nasty, painful wound.
These dogs were not on leashes. And I wasn't going to make the same mistake again. I deliberately but calmly turned around and started to slowly walk back toward the safety of my cabin sanctuary.
I could hear them running up behind me as they continued to bark and growl. I didn't look back, but I could feel them sniffing at my legs and ankles. All the while, I continued to silently pray for God's protection as I moved closer to the cabin.
Finally, as I nearly reached the driveway, the dogs didn't just stop.
They whimpered.
A moment later, I heard their master's voice calling them back to where they belonged. They began running in the other direction.
When I relayed the story to my friend when I returned, she said, "Obviously, you got too close to their territory." In other words, they saw me as a threat.
threat provokes attack
When we start to walk confidently in the truth that we are free and healed by what Jesus did at the cross, satan sees us as a threat.
When we begin making choices that reflect that we believe that Jesus is trustworthy, that He is our Protector and Healer, the enemy knows God can work through us powerfully. 
And he's not going to take that lying down. He brings out the big dogs — temptation, lies, doubt, chaos, overwhelm … anything to create a barrier between us and the Father, the Source of our power.
And like those dogs, he is real. The fangs are out. Satan is not "all bark, no bite." John 10:10 tells us that the enemy has come to "steal, kill and destroy." He doesn't just want to discourage or intimidate us. He wants to complete annihilate us.
He should be taken very, very seriously. We can't let our guard down. Even when everything seems peaceful. Maybe perhaps especially when everything seems peaceful. 1 Peter 5:8 says, "… be disciplined and stay on guard. Your enemy the devil is prowling around outside like a roaring lion, just waiting and hoping for the chance to devour someone."
When we think we have no occasion for our sword, we begin to unbuckle it from our side; we strip off our armor-plate piece by piece, and then it is that we become most exposed to the attack of our enemies. ~ Charles Spurgeon
At the same time, vigilance doesn't mean panic. We should be "alertly watchful," but not fearful.
Nowhere in the Bible does it tell us to flee from the devil. It says as we resist him — in prayer, with our choices, with the Word of God — he will flee from us! The enemy is real, but he has a Master. His name is Jesus. And He owns him. He is under the authority of Jesus Christ. Don't you love that?
God has given him reign over this world, but his time is limited and his power is not unrestrained.
stay close to Home
When those dogs confronted me that day, I didn't run in panic as I had in high school. Instead, I calmly started heading to my sanctuary, both physically and spiritually.
Our spiritual Home, our Sanctuary, is God the Father. The closer we get to Home, the more we gain an awareness of the Father's overwhelming, personal love.
When I am aware of His love for me to the depths of my soul, I am confident in the midst of battle. When I am keenly aware of how very much I am personally and deeply loved by the Father, I know that I am not battling alone.
Staying close to Home allows us to roam freely and confidently. Let every battle draw you deeper and closer to Home.
What does staying close to Home look like?
Stay calm.
Staying calm in the midst of attack and adversity is a choice to bring our mind and emotions in line with the truth. It is an act of faith. And the truth is that God loves us and He is fighting for us.
All kinds of foolish actions stem from panic. We grasp at our own weapons and in the face of spiritual assault, human weapons are useless. It's not denying reality. It's just choosing to believe a bigger reality. We can be calm when we remember: "I'm weak. But Someone who loved me enough to die for me fighting for me and He is the Ultimate Warrior."
Be disciplined. 
Our most potent weapon against the enemy is God's Word. In Ephesians, it's called the "sword of the Spirit." It is full of the promises and truth that we need to remember when the enemy assaults us. 
And I'm just gonna speak some hard truth here. The easy access technology gives us to "one-minute devotionals" or a daily verse on our Bible app and a quick prayer isn't going to cut it. They are valuable "reminders." However, any deep relationship is built by spending quantity time together. Serious warfare requires disciplined and deep heart preparation. 
We have to be in the Word every day. Studying it. Meditating on it. Asking God to show us more of Who He is through it.
The trust that flows from a deep knowledge of Who God is and His love for you can't be rushed. It is the firm foundation that gives us confidence in Him during battle.  
Pray and praise often.
Keep an ongoing dialogue of prayer and praise going with God throughout the day. When we're attacked with doubt, temptation and adversity, often our instinct is to run from God. Recognize that is part of the enemy's strategy: to drive you away from Home, where you are most vulnerable.
So use his attacks to drive you closer to Him.
Be more prayerful every time he is more active. He will soon give it up, if he finds that his attacks drive you to Christ. Often has Satan been nothing but a big black dog to drive Christ's sheep nearer to the Master. ~ Charles Spurgeon
Praising God is one of the most freeing and powerful weapons of warfare. Satan was thrown out of heaven because he wanted all the praise to himself. He wanted the praise that only belongs to God.
When we praise God, the enemy hates it. HATES it. He can't stick around for long. It just repulses him. Personally, I love the idea of making satan sick. It's pay back time.
Keep walking, but don't do it alone.
In Acts 14, Paul is preaching the gospel. He is attacked and stoned, so beaten and bloody that his attackers thought he was dead.
… they stoned Paul and dragged him outside the city, thinking he was dead. But after the disciples had gathered around him, he got up and went back into the city.  Acts 14:19-20
Notice it says "the disciples gathered around him." Paul didn't go into battle alone. And when he was attacked, his brothers and sisters in Christ gathered around him and prayed. We need each other, especially when we are too battered and weary to pray for ourselves.
Their prayers revived him. He miraculously recovered from a near fatal beating. And then what did Paul do? Moments later, he "rose up and went into the city." Say what???
Yep, Paul got up and went back into the city where he was just nearly beaten to death.
Paul is either looney tunes or full of faith. I vote the latter. That's what it looks like when we are armed with the truth, prayer, fellow warriors and a deep heart knowledge of HIs love, friends.
If Paul can keep walking back into the fire by the power of God, so can we.
The enemy will attack. At times, he will draw blood. But he has lost the war. He is defeated.
Paul was attacked by the enemy at nearly every turn, but who do you think was the victor at the end of Paul's life, even though he was ultimately martyred? The example of God's power working through Paul's unwavering steadfast faith stands as a beacon of hope and victory to us thousands of years later.
After you have suffered for a little while, the God of grace who has called you [to His everlasting presence] through Jesus the Anointed will restore you, support you, strengthen you, and ground you. For all power belongs to God, now and forever. Amen. 1 Peter 5:10
I can hear the enemy whimpering now.