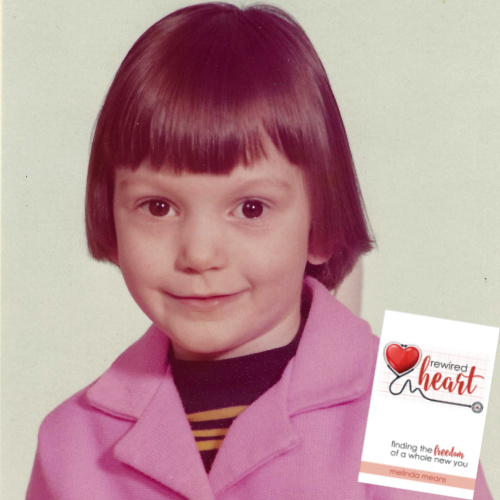 A whole new view of God changes everything.
It has absolutely rocked my world.
You see, for most of my life, I knew about God, but I didn't really know Him. I thought I did.
But I couldn't comprehend God's love for me.
I was just four years old when I prayed and told Jesus I knew I needed a Savior. I told Him I accepted His death on the cross as payment for my sins and asked Him to come into my heart. Even though I was a very little girl, I distinctly remember saying that prayer right after my sweet and well-meaning mother asked me, "You don't want to go to hell, do you?" What four-year-old wants to go to hell?
It motivated me to say the prayer. But it's impossible to feel secure in a fear-based relationship. So I immediately put a wall up around my heart to protect it from this angry God. As I grew up, my view of God continued to be tainted by fear and obligation. As I began to experience heartbreaking pain and struggles in my life, it only reinforced my view of a vengeful God who was more interested in punishing me than loving me. How could I possibly go to God for comfort when I believed He was the Source of my pain?
the love that frees us
Whatever the adults in my life intended, my heart embraced these lies: God loves you and accepts you as long as you perform for Him. His stern and disapproving gaze is looking for what you're doing wrong, not what you're doing right. And regardless of what you do, you can never really please Him, but work hard anyway because perhaps you can avoid His wrath.
I grew up in the church and in a Christian home. I went to a Christian college. I'm currently on staff at my church and have been leading Bible studies for more than 20 years. I've written Christian books. But I didn't TRULY begin to know Who God is until just a few years ago!
Those lies that well-intentioned adults passed down lies about God drove me to the point of despair. Burned out by performance-based faith, I was finally crushed under the weight of cumulative disappointments and exhaustion. I cried out to Him in wounded desperation. Then the loving God of the universe met me there and said, "Now you're ready to see Me for Who I truly am."
And, friends, He just blew my socks off with His love for me. A depth of love that I didn't even know existed.
We can have a lifetime of head knowledge about God, but not understand in our hearts who God truly is. Only recently has the truth in my head been downloaded into my heart. The depth and scope of His loving and overwhelming nature and personal love for me took me by complete surprise. As my heart softened, the wall I started building around it when I was a little girl began to crumble, brick by brick.
a whole new view of God
We all have lies we believe about God — and it limits our intimacy with Him and the love, power, and peace He longs to give us. In order to know Who God truly is, we have to be intentional. Relationship with Him is not earned, but it must be pursued. He doesn't force us into relationship. He lovingly invites us. In my new book study Rewired Heart: Finding the Freedom of a Whole New You, I'm passing on the biblical truths and principles He showed me that have radically changed my view of Him and given me a sense of His love, joy and peace I didn't know existed.
God is loving beyond anything we can imagine. And when you meet Who He truly is, you'll discover that a whole new view of God changes everything. it changes our perspective, how we view ourselves and our internal peace and security. It changes our perspective on our circumstances and the world.
As you see Him for Who He truly is, you will find the freedom of a whole new you.
Rewired Heart is available on Amazon and can be used for individual or group study.
Click the graphic below to purchase: