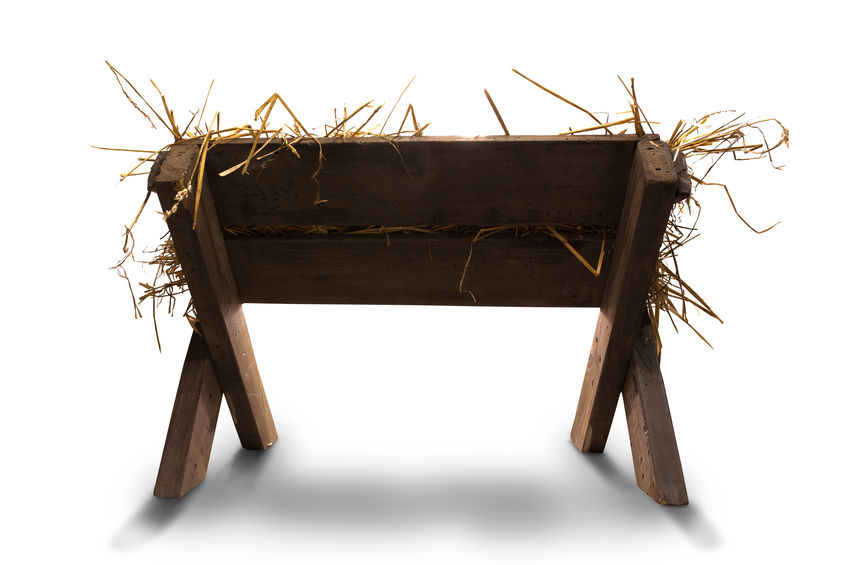 The first Christmas should never have happened. 
The world was a very dark place 2,000 years ago. God had not spoken in 400 years. There was no earthly reason to believe unexpected blessings would emerge from the darkness. 
In fact, every single aspect of that first Christmas was impossible from a human perspective. And nearly every single person with a "starring role" in the action had to overcome fear and disbelief and embrace a reality that their eyes couldn't see. That their minds couldn't even conceive was possible. 
Zechariah, the priest, was in the temple interceding in prayer for his people. Suddenly, the angel Gabriel appeared to him. This kind of thing just didn't happen everyday, even to priests. It certainly hadn't ever happened to Zechariah.
The first thing Gabriel says to him is, "Don't be afraid!"
He and his wife, Elizabeth, had been praying for a son for years. Now they were too old to have children. They had accepted their situation. And suddenly, the angel tells him that not only is he going to have a son, but his son is going to prepare the way for Jesus, the Messiah! You'd think Zechariah would be doing cartwheels, but I think he had more of a "this is just too good to be true" reaction. He couldn't see how he and his wife, well along in years, could have children.
It just wasn't possible from a human perspective.
Mary, a poor, teenage girl engaged to be married, is going about her daily routine when suddenly the angel Gabriel appears and says, "Greetings, favored woman! The Lord is with you! … Listen carefully: you will conceive in your womb and give birth to a son, and you shall name Him Jesus. (Luke 1:28, 31 NLT) Mary's reaction? "Confused and disturbed, Mary tried to think what the angel could mean." (Luke 1:29 NLT).
Mary felt shaken. Confused. She couldn't see how she could possibly be pregnant when she was a virgin. And with the Son of God?
It just wasn't possible from a human perspective.
Gabriel immediately reassured her with these words: "Don't be afraid, Mary" (Luke 1:30 NLT)
Joseph doesn't know what to make of Mary's pregnancy. He doesn't want to shame or humiliate her, but he knows he can't continue with their marriage. Until … an angel visits Joseph and tells him:
"Do not be afraid to take Mary as your wife …"
How can he take Mary for his wife? How will this possibly turn out well?
It just didn't seem possible from a human perspective.
The shepherds are out tending and guarding their sheep. It's just an ordinary night to them. And then, "Suddenly, an angel of the Lord appeared among them, and the radiance of the Lord's glory surrounded them." (Luke 2:9 NLT) Their reaction? You guessed it. They were "terrified."
How was this possible from a human perspective?
And the angel gave them these words: "Don't be afraid." (Luke 2:10 NLT)
"For this day in the city of David there has been born for you a Savior, who is Christ the Lord (the Messiah). And this will be a sign for you [by which you will recognize Him]: you will find a Baby wrapped in [swaddling] cloths and lying in a manger." (Luke 2:11-12 NLT)
unexpected blessings are possible!
Our tendency is to automatically assume if it isn't possible in the natural realm, it isn't possible. We're afraid to hope. We can't wrap our minds around "Red Sea splitting moments." We can't see the unexpected blessings. But God specializes in working through unfamiliar, impossible circumstances. He's the same God He was 2,000 years ago!
In every case of those mentioned above, the very situations that made them so afraid that first Christmas were actually the beginnings of something new and amazing. Beyond their wildest dreams.
When we are taken by surprise, it's normal to feel fear. To struggle with disbelief. But if we stay in that place, it blinds our perspective. It hardens our hearts. God wants us to choose to look for Him despite our fear. He wants us to see things from His perspective.
He wants us to choose to say, "Lord, I don't understand what you're doing. I've never experienced this before. To my eyes, it looks really confusing and threatening. Give me eyes to see You in it. Please help me. Show me how to follow you into the unknown. Give me courage."
That doesn't mean our fear immediately vanishes, but as we seek God and are open to His activity, we can now begin to parter with Him instead of feeling paralyzed or fighting against His plan. We begin to see and experience Him doing things we thought were impossible. HIs purpose and HIs plan are always for our good and HIs glory. However, the journey of partnering with God is not without hardship and sacrifice.
Zechariah and Elizabeth had the responsibility of raising a child that would prepare the way for Jesus. No pressure there.
Mary had the faith to say, "I am the Lord's servant. May everything you have said about me come true." (Luke 1:38 NLT) But then she had to tell Joseph. She had to tell her parents. She had to endure the whispers and judgment of her neighbors. Ultimately, she had to endure the death of her precious Son.
Joseph stayed with Mary. He took her as his wife. But that meant having to flee from Herod, who wanted to kill Jesus. It likely meant feeling like an outcast, along with Mary.
The shepherds had to be willing to leave their sheep, something a good shepherd was never supposed to do, trusting that following the words of the angel was more important.
They were all on an impossible journey to unexpected blessings.
He's doing a "new thing" then — and now
Was the sacrifice worth it? You and I are still benefiting from their faithfulness and courage! When we step our of our comfort zones, when we trust God in the impossible, it has ripple effects. Others benefit from our decisions to follow God when we don't understand. When everything seems dark, unfamiliar and inconceivable.
Isaiah 43:19 (NLT) says, "See, I am doing a new thing! Now it springs up; do you not perceive it? I am making a way in the wilderness and streams in the wasteland."
God was doing a "new thing" 2,000 years ago. In the midst of all the unfamiliar, impossible situations we have been experiencing in 2020, I think He is also doing a new thing. He wants us to partner with Him in the midst of our pain as He works all things together for our good and His glory.
Partnering with Him, asking Him to give us eyes to see His activity, gives us opportunities to experience God's love and His ways in deeper and more beautiful ways. It allows us to fully rejoice when we see Him do the impossible.
As we follow Jesus, as we seek Him as wise men and shepherds did long ago, impossible circumstances give way to unexpected blessings.
Let's dare to believe for the impossible this Christmas. Unexpected blessings await.