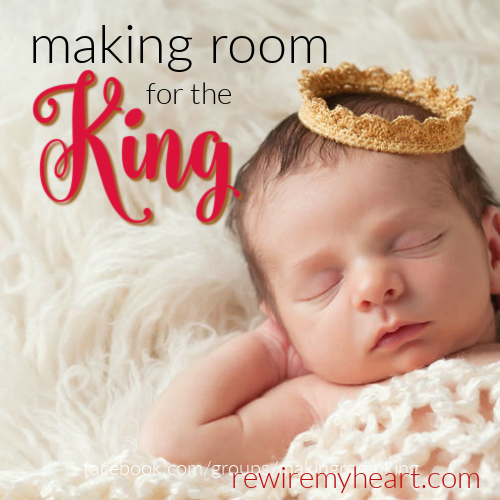 Before He was even born, Jesus was crowded out.
No room for Him in the inn at Bethlehem. So the King of Kings was shuffled off to a musty stable. His first crib — a feeding trough for smelly livestock.
As i pondered the Christmas story a few weeks ago, it struck me that not much has changed in 2,000 years.
We still so often don't make room for the King.
Our hearts and minds are so full of other distractions
. Even
good
distractions. We crowd Him out with busyness, children, materialism, legalism, ministry, social media … just to name a few.
We can so easily become just like that Bethlehem Innkeeper.
Our Savior is within reach, standing at the door knocking, but we're just too "full" to recognize and enjoy His presence.
We miss the very gift that Jesus came down to give us … HIs presence!
So how can we make room for the King in 2019?
How can we embrace the gift of His presence? How do we make room for Him and allow Him to fill us up in ways we can't even fathom? i have been a life-long "over-crowder." Over the last couple of years,
God has been mercifully showing me a few biblical principles that usher in the beauty and peace of HIs presence, provision and leading:
Empty. 
So often we think of empty as a negative thing.
After all who wants an
empty
bank account? An
empty
pantry? An
empty
gas tank?
But look at it this way: Simply having these things "full" is not the goal, is it?
A bank account full of monopoly money doesn't pay the bills.
A pantry filled with shampoo bottles doesn't satisfy an empty stomach.
A gas tank filled with milk won't get you anywhere.
It's only when those empty places
are filled with what they were designed for
that they fill the need for provision, nourishment and energy. Our hearts and minds may be full. But if they
are not full of Who and what they were designed for,
we are never going to be find lasting satisfaction.
At the beginning of 2017, God began to keep bringing the thought, "Purge" to my mind.
i initially began to slowly purge my environment of clutter and create better organization in my home. With every item i let go of, with every box and bag that left my house, i felt lighter. Gradually, God began to show me that He wanted me to submit to an
internal
purge as well.
A purging of my heart and mind.
i began to reduce my intake of social media, political obsessions, even the pursuit of more knowledge.
You see, i was always taking some new course or study. Trying to be "more" something … more efficient, more godly, more credentialed, more successful.
What God began to show me was that I didn't need more knowledge. I needed what I already knew in my head about Him to be deeply embedded in my heart.
The girl who had grown up in a Christian home, went to Christian school and college, attended church all her life, wrote Christian books and was on staff at her church
didn't truly know in her heart the truth and depth of God's love for her
. Crazy, huh? i knew
of
His love. But there's a big difference between an
intellectual
knowledge of God's love and feeling and experiencing and knowing how very deeply He loves you
to the depths of your heart and soul
.
That, my sweet friend, changes everything.
But distractions, old wounds and lies blind us from that very deep heart knowledge of His love.
We have to make room to simply sit at the feet of Jesus so He can fill us up with the light of His love.
This beautiful truth is what a band of shepherds and Mary discovered long ago.
The shepherds had just been told by the angels that the Messiah had been born. Suddenly everything in their lives was simplified to
one thing
:
We have to search for the Messiah
. When they found Him, the
head
knowledge of the coming Messiah was suddenly experienced on a
heart
level.
Shepherds: Let's rush down to Bethlehem right now! Let's see what's happening! Let's experience what the Lord has told us about! 

So they ran into town, and eventually they found Mary and Joseph and the baby lying in the feeding trough. After they saw the baby, they spread the story of what they had experienced and what had been said to them about this child. Everyone who heard their story couldn't stop thinking about its meaning. (Luke 2:15-18 THE VOICE; bold emphasis mine)
And what was the result?
Mary, too, pondered all of these events, treasuring each memory in her heart.
The shepherds returned to their flocks, praising God for all they had seen and heard, and they glorified God for the way the experience had unfolded just as the heavenly messenger had predicted. (Luke 2: 19-10 THE VOICE; bold emphasis mine)
Experiencing God's love resulted in heart change and being filled with spontaneous praising and glorifying of God. 
Now let's talk about another Mary.
Martha, a resident of that village, welcomed Jesus into her home. Her sister, Mary, went and sat at Jesus' feet, listening to Him teach. Meanwhile Martha was anxious about all the hospitality arrangements. 

Martha (interrupting Jesus): Lord, why don't You care that my sister is leaving me to do all the work by myself? Tell her to get over here and help me.

Jesus: Oh Martha, Martha, you are so anxious and concerned about a million details, but really, only one thing matters. Mary has chosen that one thing, and I won't take it away from her. (Luke 10:38-42 THE VOICE) 
Making room for the presence of God is the one thing that is needed. It changes our hearts. And as it says in Proverbs 4:23, "everything you do" flows from the heart.
Invite.
When Jesus entered the world, He didn't come making demands. He didn't send angels before Him to demand a place at the Inn.
And He certainly could have.
But God is a gentleman. He waits for an invitation.
I am standing at the door and knocking. If any of you hear My voice and open the door, then I will come in to visit with you and to share a meal at your table, and you will be with Me." (Revelation 3:20 THE VOICE)
And you may be familiar with the two men walking to Emmaus in Luke 24.
Jesus has just been crucified —the man they though could be the Messiah. The One who they had greatly hoped could be their earthly King and the One to free them from Roman tyranny. Now He was dead (or so they thought).
They were sad. They didn't understand.
Jesus starts walking with them discussing all these events. But they don't recognize Him. Yet as He talks with them, they also begin to realize he is no ordinary man.
… they were nearing Emmaus and the end of their journey. Jesus acted as if he were going on,

 

but they begged him, "Stay the night with us, since it is getting late." So he went home with them.

As they sat down to eat, he took the bread and blessed it. Then he broke it and gave it to them.

 Suddenly, their eyes were opened, and they recognized him. And at that moment he disappeared! (Luke 24:28-31 NLT)
i'm just speaking from personal experience here, but I have a feeling i'm not alone. I have often come to God focused on looking for answers or for Him to make me feel better or give me something.
I'm not saying that's all wrong. God always delights in us coming to Him. But we often miss His presence! The men on t
he walk to Emmaus were so focused on trying to figure everything out, so mesmerized by getting the to their questions that they missed that
they were in the presence of the the Answer
(in bodily form) to every question!
It was when they
invited Him in
, when they were
hungry for more of Jesus
, that their eyes were opened! God wants us to ask questions.
But our goal should always to see Him and know Him more.
The answers and solutions come as we do that. Or they will suddenly seem less important.
I think what really captures God's heart is when His daughters come to Him saying simply, "Daddy, I'm here. Will you please show me more of who you are? Will you please help me to know more about your love and power? I'm inviting you in, whatever that looks like. I'm just here. Sit with me. I'm hungry for you."
The world is constantly brainwashing us to see things from their point of view.
It has to be deliberate —a conscious and regular choice — to focus on God. To ask to see from His point of view. To draw on His resources. To just "BE." "The world conquers me when it comes between me and God, when it fills my desires, when it absorbs my energies, when it blinds my eyes to the things unseen and eternal." ~ Alexander Maclaren from
Expositions of Holy Scripture, St. John, Volumes I & II
In 2017, the Holy Spirit led me to begin praying two Scriptures every morning as i sat down to dig into His Word.
i'm not saying He will lead you to say these same prayers, but i think there are principles we can learn from these two Scriptures and their context that could be helpful as we seek to know God more.
The first one is from 1 Samuel 3:1-10: "Speak, Lord, your servant is listening."
Samuel's mother, Hannah, could not have children. She begged God for a child and promised to dedicate him to the Lord's service if He answered her prayer. When he was a tiny boy she took him to the temple to fulfill her promise and so he could be raised and taught by the priest Eli.
God begins to speak to Samuel in the middle of the night one evening.
Samuel did not recognize God's voice until the third time He called him. He kept thinking it was Eli. The third time, Eli realized it was God calling Samuel.
Then Eli realized that the 

Lord

 was calling the boy. So Eli told Samuel, "Go and lie down, and if he calls you, say, 'Speak, 

Lord

, for your servant is listening.'" So Samuel went and lay down in his place. The 

Lord

 came and stood there, calling as at the other times, "Samuel! Samuel!" Then Samuel said, "Speak, for your servant is listening." (1 Samuel 3:8-10 NIV)
God speaks to open hearts.
At the beginning of the passage, it says, "The word of the LORD was rare in those days." Why was it rare? "Because of the hardness of heart among the people of Israel and the corruption of the priesthood. God will speak, and guide, when His people seek Him, and when His ministers seek to serve Him diligently."
The second prayer i began to pray was Exodus 33:13: If you are pleased with me, teach me your ways so I may know you and continue to find favor with you.
The Israelites are about to enter the Promised Land.
But God is not pleased with them.
They have been worshipping idols and forsaking Him. God tells Moses to go ahead into the land, but that His presence will not go with them. Moses responds in Exodus 33:15 (NIV): "If your Presence does not go with us, do not send us up from here."
Moses doesn't want the Promised Land. He wants God!
We have to desire Him more than results.
So often i have been focused on a result. Anybody else here guilty? God doesn't want us to desire a result. He wants us to desire HIM.
When we seek Him like that, He shows up, friends.

Invite Him to speak. 
And the Lord said to Moses, "I will do the very thing you have asked, because I am pleased with you and I know you by name. (Exodus 33:17-18 NIV)
Rest.
You know what the Bible says Samuel was doing when He heard God's voice?
1 Samuel says, "Samuel was resting." God's voice can be heard more clearly in the silence. As we allow our bodies and minds to quit moving and spinning.
Rest isn't something that comes easily for me.
i would rather "
do"
than rest. It makes me feel important. In control. Productive. And when my body is resting, my mind is still spinning.
But as we make the choices to empty, invite and rest, rest becomes more natural.
We gain confidence that we can rest in His leading. In His love. When we understand His love for us to the depths of our being, we begin to let go of our anxiety.
Come to me all you who are weary and carry heavy burdens and i will give you rest. (Matthew 11:28 NLT)
This kind of continual surrender is not a one time thing. It is a one moment at a time thing.  A one step at a time thing.
All we have to do is follow Him, step by step. Some of those steps might seem like they are leading off a cliff, but they're not.
He promises.
For the 

Lord

 your God will personally go ahead of you. He will neither fail you nor abandon you. (Deuteronomy 31:6 NLT)
This Christmas,
empty, invite and experience the rest
that comes with the heart knowledge of His love.
There's always room at His table. The King is waiting for you.
The Lord replied, "My Presence will go with you, and I will give you rest." (Exodus 33:14 NIV)