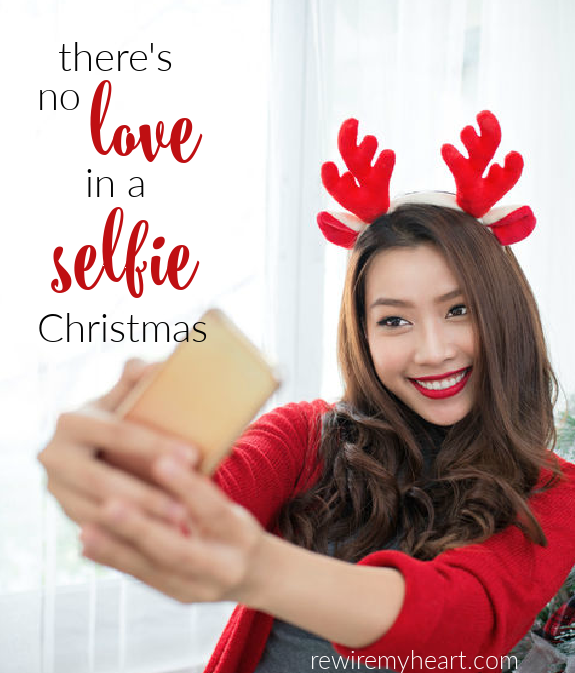 Christmas is all about me. 
For so many years, that's how i approached the most sacred season of the year.
I'd have in my mind a certain way i expected things to be and how I expected people to act. I expected to feel a certain way.
i expected that my family dynamics — often messy and chaotic the rest of the year — would suddenly become as sticky-sweet and predictable as a Hallmark holiday movie.
You see, as i was growing up, the holidays weren't all that heartwarming. Because of some difficult and dysfunctional family relationships, Christmas in my house always had an underlying tension, anger and resentment.
Sometimes it wasn't just underlying — sometimes it was full blown.
So when I became a mom and had my own family, I was determined holidays were going to be perfect.
Everyone was going to be loving and sweet and wonderful and grateful and thrilled to be together.
Any guesses how that turned out?
When it inevitably didn't go the way I'd planned, when people had the gall to not act the way I expected them to act — kaboom! —I'd explode in angry, frustrated tears or retreat into passive aggressive self-pity.
But if we think about it, it's not just at the holidays that we do this though, is it? We often do it with our kids, with our husbands, with our friendships … all year round.
I can think of lots of personal examples — too many! — but I think especially about my mom. She had such a broken and heartbreaking childhood. It resulted in a lot of dysfunction in her life and greatly impacted her mental state and her approach to family.
Looking back, i can see so many things she did right. But her emotional wounds made it difficult for us to connect in the way i desperately wanted and needed.
She died 15 years ago, but right up until she died, I was looking for her to give me what I wanted from her. It colored every interaction with her. I wanted her to say a certain thing or act a certain way and when she didn't, the resentment would build and the wall between us got thicker.
I'm ashamed and sad to say that even as she was battling cancer, I was longing for her to meet my emotional needs. To have those mother/daughter moments and conversations that i'd dreamed of. 
It's only since she's been gone (and i've realized how much grace i need my children to give me) that I have truly been able to love her through eyes of compassion, to let go of the resentment I held for so long.
a selfless model
Loving without expecting anything in return? Who does that?
Jesus does.
Two thousand years ago, Jesus gave us a flesh-and-blood illustration of a better way to love. He didn't come here looking like who we'd expect. He didn't arrive making demands.
He came without expectation to give us salvation.
Jesus embodies Selfless Love. Another name for selfless love is agape love. This kind of love is different from romantic love or friendship love. A couple definitions of agape love that i found:
• Unconditional love that is always giving and impossible to take or be a taker. It devotes total commitment to seek your highest best no matter how anyone may respond. This form of love is totally selfless and does not change whether the love given is returned or not.
• Love as revealed in Jesus, seen as spiritual and selfless and a model for humanity.
So what does Selfless Love look like?
Selfless love doesn't expect anything in return. 
Jesus was the King. Perfect. All-powerful. All-knowing. He could have left us in all our rebellion and dysfunction. And yet He came here, born in a stable, laid in a manger and died a horrific, humiliating death for us.
When I'm tempted to demand my "rights" or believe I am owed something, I think of Jesus.
i think back to a time when my husband and i were going through a difficult time in our marriage. As is often the case, we both played a part. No one was all right or all wrong. But selfishly I could only think how the struggles were affecting me.
Then, the Holy Spirit spoke to my heart with a couple of simple, but powerful questions that rocked my world and began the process of softening my heart: How do you think this is affecting him? What is your role in these struggles?
I could hold onto resentment, I could demand my rights. And I'm certainly not saying we should be a doormat in our relationships. We can and should speak the truth in love. But that is not what I was doing. I was demanding he act and react in a certain way on my timetable.
[Tweet "When I'm tempted to demand my "rights" or believe I am owed something, I think of Jesus."]
And here's the bottom line: It wasn't bringing us closer together. It wasn't changing his heart or mind — or mine.
But as i quit obsessing on my needs, my feelings, my wounds, my point of view and starting shifting my focus to his, the barrier between us slowly began to lift. It was not an overnight process. Learning to love each other selflessly will always be an ongoing journey. i certainly don't do it perfectly. But it's not about perfect. It's about progress.
There are no guarantees when we show selfless love. It isn't some kind of magic wand that instantly changes us, other people or circumstances. However this is what it does do: It sets the stage for the Holy Spirit to work in our hearts and lives in ways that we can't.
Selfless love expects the best, but doesn't  demand it.
Luke 15 tells this story: "A man had two sons. The younger son told his father, 'I want my share of your estate now before you die.' So his father agreed to divide his wealth between his sons." (Luke 15:11-12)
A few things struck me about this story: When the son wanted to leave, the father didn't tell him how ungrateful he was and demand that he stay. Later in the story, he didn't send someone out to him or go find him and demand that he come back and straighten up.
But he didn't give up on him either.
In verse 20, it says, "And while he was still a long way off, his father saw him coming. Filled with love and compassion, he ran to his son, embraced him, and kissed him."
The father was looking for him. And ran to embrace him the second he came into view.
A few years ago, right after high school, my beautiful, independent, strong-willed daughter left home. I remember even at 11 and 12 years old, her telling me, "I know what you're saying is right, mom, but I have to learn it the hard way."
So at 18, her full-fledged journey into learning lessons the hard way — without the restraint of mom and dad — began.
Watching our children suffer the consequences of their choices only gets harder as they get older. The stakes are higher. The pain more deep.
I wanted to do something. Insist she stay home. Demand she come back. Take control.
And again the Holy Spirit spoke to my heart, three little words: "Let. her. go." Later, he told me the same thing with my son. 
But doesn't love do something? Sometimes. Basically selfless love does what is the best interest of the other person. Sometimes that is doing something. Sometimes that is doing nothing. Without God's guidance, i often have trouble knowing the difference.
As both of my children have left home, i've felt God tell me over and over to just love them.
At times that means just listening. At times, I sense the Holy Spirit prompting me to speak the truth to them in love. But He never tells me to demand or expect anything in return.
i trust that God is in control, so i don't have to be. i just have to follow HIs lead. And always be ready to embrace them, arms wide open.
Selfless love takes the long view.
Mary, Martha and Lazarus. Outside of his disciples, these three may have been closest to Jesus. He loved them deeply. The Gospels show us that time and time again.
Yet if you'll remember, when the sisters sent word to Jesus that Lazarus was dying, he didn't come to see them for three long days.
Jesus knew that his friend's illness would result in death, but not end in it. He knew that He would shout "Lazarus, come out!" and life would fill his friend once again and a man who was once dead would walk out of the grave.
That is why He waited.
Mary, Martha, Lazarus, and the disciples had seen Jesus heal plenty of people. Remember, that is most likely what prompted the sisters' to send for Him in the first place. But Jesus wanted them to experience something more. Something much more.
Jesus wanted them to see that He has power over death. They would need to know this about Him when they would weep over His broken, lifeless body on a dark day not long after this.
Selfless love is okay with being misunderstood in the short term in order to achieve what best for a person in the long-term.
the choice to get over yourself
Selfless love is about interacting with others — even those who are so very difficult — in an attitude of love. Even when we disagree. Even when we're being attacked or misjudged.
You might be thinking, How? How is it even possible to love like Jesus?
Clearly, we're not Jesus. On our own, we are not capable of this kind of love. It's impossible. It is not in our human nature to give or love without expecting anything in return.
Here's what i think it comes down to:
We make a choice. A choice to love even when it feels impossible. When we make the choice to do that, it empowers the Holy Spirit to work in and through us. Our hearts begin to soften. We can often actually begin to have compassion for that other person.
We gain a peace that isn't dependent on another person's behavior. Yet, often they change, too. There are no guarantees. But agape love creates an environment for God to work in his or her life and heart.
[Tweet "Selfless love is okay with being misunderstood in the short term in order to achieve what's best for a person in the long-term."]
You may have heard of Corrie Ten Boom.
Corrie and her family used their home to hide Jews from the Nazis during World War II. Eventually, they were found out and she, her sister and parents were taken to concentration camps. Only Corrie survived. For the rest of her life, she went on to write books and speak about her experience and God's grace and love in the midst of tragedy.
In one of her books, she recounts a time when she encountered one of her cruel Nazi captors at a speaking engagement, years after the war had ended. He didn't remember her. But she remembered him. He came up to speak to her after her talk:
Now he was in front of me, hand thrust out …"You mentioned Ravensbruck in your talk," he was saying. "I was a guard there." No, he did not remember me. "But since that time," he went on, "I have become a Christian. I know that God has forgiven me for the cruel things I did there, but I would like to hear it from your lips as well. Fraulein,"—again the hand came out—"will you forgive me?"

… It could have been many seconds that he stood there—hand held out—but to me it seemed hours as I wrestled with the most difficult thing I had ever had to do.

For I had to do it—I knew that. The message that God forgives has a prior condition: that we forgive those who have injured us. "If you do not forgive men their trespasses," Jesus says, "neither will your Father in heaven forgive your trespasses." And still I stood there with the coldness clutching my heart.

But forgiveness is not an emotion—I knew that too. Forgiveness is an act of the will, and the will can function regardless of the temperature of the heart. "Jesus, help me!" I prayed silently. "I can lift my hand. I can do that much. You supply the feeling." And so woodenly, mechanically, I thrust out my hand into the one stretched out to me. And as I did, an incredible thing took place. The current started in my shoulder, raced down my arm, sprang into our joined hands. And then this healing warmth seemed to flood my whole being, bringing tears to my eyes.

"I forgive you, brother!" I cried. "With all my heart!" For a long moment we grasped each other's hands, the former guard and the former prisoner. I had never known God's love so intensely, as I did then. But even then, I realized it was not my love. I had tried, and did not have the power. It was the power of the Holy Spirit. 
When we ask the Holy Spirit to help us comprehend the love that He has for us — when His love fills our hearts, He empowers and inspires to give that love to others. It is nearly a natural result.
"For we know how dearly God loves us, because he has given us the Holy Spirit to fill our hearts with his love." Romans 5:5
This year, i've made some fun Christmas plans. But i'm trying to leave my Hallmark movie expectations behind.
As upside down and backwards as it seems, i've learned that the less i demand my rights, the more i receive … more peace, more joy, more freedom.
Think a great selfie goes viral? That's nothing compared to the impact of selfless love.