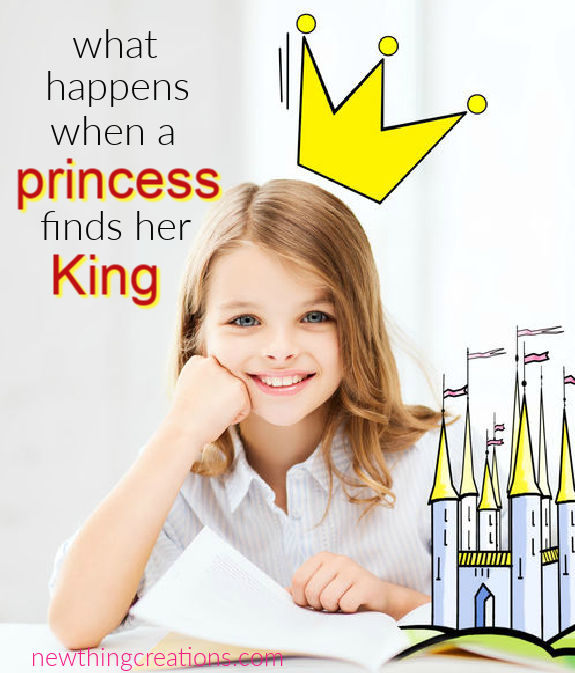 What little girl doesn't dream of being a princess?
i certainly did.
A bit of a nerd growing up (who endured her fair share of the ridicule that went with it), i fantasized about being transformed into the beautiful Cinderella.
In 2017, God began to show this wannabe princess that she was royalty all along. (Even when the bad hair, braces and pop bottle glasses might indicate otherwise.)
He opened my eyes to how He has been taking careful note of the wounds and desires of my heart throughout my entire life.
He began to lovingly convince me that He longed to transform my long years of Cinderella ashes into beauty. And that He saw and was growing regal qualities in me that i couldn't see in myself.
God quite unexpectedly and creatively began to open my eyes to how He's been lovingly training me in my royal role.
And He showed me so many of these things through Disney Princess movies.
I can't explain it exactly how it happened, but i suddenly felt strangely compelled to watch Frozen, Brave, Tangled and yes, Cinderella, as well as a host of other princess fare, one after another — some for the very first time.
My husband and teenage son had no idea quite what to make of this grown woman binge watching Disney movies while sniveling into a box of Kleenex. They teasingly mocked me, but although they didn't completely get it, they couldn't deny that God was doing something interesting in my life.
During the course of 2017, God burrowed into my heart such personal messages through these movies (as well as many other creative avenues), speaking healing and truth and love to the little girl who once dreamed of being Cinderella.
Like Princess Elsa in Frozen, I recognized my journey of "letting go" of my pride, image, insecurity and need for control. God showed me that the things that i often tried to hide from the world — my vulnerability, my pain — were actually precious gifts of beauty to be shared.
I realized this once shy, timid girl now had a strength, boldness and fire in me like that of Princess Merida in Brave.
Like Princess Rapunzel in Tangled, i finally recognized how blind i've been all these years. Blind to the Father's incredible love for me. How i've been trapped in a prison of pain, but i've always had more power and position and freedom than i realized.
Like Cinderella, i learned it was okay to dream of and expect good and miraculous things. I might not have a fairy godmother, but I have an all-powerful Heavenly Father who "longs to be gracious to me" and can do "more than i can ask or imagine."
And boy could i relate to Princess Mia in the Princess Diaries. A somewhat goofy girl with glasses and gangly arms and legs who began to thrive and blossom under the loving, meticulous — but sometimes seemingly harsh — guidance and training of Queen Clarisse.
Princess. Yes, i really was a princess. Serving a King who was more loving than i could have ever dreamed. But then God began to show me that i am so much more than a princess.
a royal relationship
This epiphany came as i was preparing for some talks i was giving at a retreat. The theme was "Daughters of the King." Of course, i immediately began to focus on royalty and crowns and princesses. And although God had given me some good content, nothing was "gelling." It just didn't feel right.
My deadline for the retreat was ticking down and i began to wonder if this princess was going to have a mortifying Princess Mia moment — on stage, unprepared and babbling nonsense.
i begged God for a breakthrough.
And then out of the blue, the thought came to me: You're focusing on the wrong thing.
What?
Again, the thought came to me out of nowhere: Don't focus on princess. Focus on daughter.
He wanted me to understand. He wanted the women at this upcoming retreat to truly understand that we aren't just royalty. We are His Daughters.
Daughter. There is a sweetness, a softness that is associated with that term that i think so many of us miss. That i have missed for so many years.
It could be because of our own broken or dysfunctional relationship with our earthly father. Or maybe we just can't wrap our heads around the idea that God would see us as Daughter.
Personally, my legalistic childhood view of God had always made me feel more like Slave.
Princess denotes royalty, a beautiful thing. It denotes position.
But the title Daughter, well, that describes relationship. And God is all about relationship. He is all about love.
Over the years, i could so relate to the woman with the issue of blood in Mark 5. She had a bleeding disorder that left her weak. She had gone to many doctors, spent all her money and was worse off then before.
i had also spent a lot of money on many doctors with little relief. One of my many health ailments over the years has been chronic anemia. i can't tell you how many trips to the hematologist i've taken for lab tests and iron infusions.
I can tell you from personal experience it takes such a toll on you on all levels.
It was even more devastating for this dear woman.
In Jewish culture, because of her bleeding condition, anything she touched was unclean. Anyone she touched was considered ritually unclean. This meant she could not worship at the synagogue. She could not participate in Jewish life. If she was married, she was cut off from her family. It had probably been many years since she had experienced the warmth of human touch.
By the very law of her people, she was divorced from her husband, and could not live in her home; she was ostracized from all society, and must not come into contact with her old friends; she was excommunicated from the services of the synagogue, and thus shut out from the women's courts in the temple. ( from The Gospel According to Mark by G. Campbell Morgan)
a tale of two daughters
When i read this story (Mark 5:21-24) again while preparing my new talks, it struck me right away for the first time that this is a story of two daughters. 
At the beginning of the passage, Jairus asks Jesus to come and heal his 12-year-old daughter who is dying. Jairus is a prominent man, a wealthy religious leader. In fact, it was his job to keep people like the bleeding woman away from the temple. People most likely wanted to be around a man like Jairus and his family. His family had wealth and importance and position.
The bleeding woman, by contrast, is ostracized. She has no position at all. She is unclean, dirt poor. No one wanted to be around her. As Jesus and the crowd move toward Jairus' house, she risks it all just to touch the hem of Jesus' robe. Yet this woman is the only woman in the Gospels that Jesus ever addressed as "Daughter."
Very different, yet God showed me some striking similarities in this tale of two daughters:
Both are singularly focused on Jesus.
Jairus on getting help for his daughter. The bleeding woman on touching Jesus no matter what the risk.
Both recognized that there was power in Jesus' touch.
In Mark 5:21 Jairus begged Jesus to, "Come and lay Your hands on her, that she may be healed, and she will live." (NKJV)
A few verses later, in Mark 5:28, the bleeding woman tells herself, "Even if all I touch are His clothes, I know I will be healed." (The VOICE)
The crowd was touching Jesus, pressing all around Him. But these verses show that there is a difference between casual contact and reaching out to Him in faith.
Flesh presses, faith touches … He can always distinguish between the jostle of a curious mob, and the agonized touch of a needy soul. (Augustine)
In both situations, rules were broken.
In the case of the bleeding woman, she touched Him and technically made Jesus "unclean." In the case of Jairus' daughter, Jesus touched her dead body, again making Him unclean.
But here's the thing: God cares far more about building relationship with His daughters than about keeping rules.
Jesus met each at their point of faith.
They didn't have perfect faith but it was pure faith. God simply asks us to give Him the faith that we have.
They both were made whole.
The length and severity of our situation has no bearing on God's ability to heal and restore. The bleeding woman had been sick for 12 years. As far as we know, Jairus' daughter had only been ill a short while. The bleeding woman was slowly dying. Jairus' daughter was dead. Jesus had the power to make both of them whole.
We often give up on things as dead that the Father simply wants to breathe new life into.
They both realized that Jesus was their only hope.
Jairus money and position couldn't save His daughter. Money and doctors hadn't helped the woman with the issue of bleeding.
For so many years i thought i was the bleeding woman. But one day i believe God revealed to me, "No, Melinda, you weren't. This woman knew i was her only hope. You only became like her when you realized that I am your only hope."
That realization began to change everything for me, just as it did for this bleeding woman. Just as it does for all of us.
a Daughter of the King
In so many ways these two daughters were so different. Yet so many parallels in their stories. The most powerful one, though, is that they each held the exact same worth and esteem in Jesus' eyes.
Think about the power of that scene. Jairus, the religious leader who had shunned the unclean woman and barred her from the temple … imagine Him seeing Jesus give her the same grace and power and healing as his own daughter.
For 12 long years, this woman had been deprived of relationship — with family, with friends, with God. i think she had very deep wounds of rejection and isolation. And so i think when Jesus called her "Daughter," it had a very deep, tender and significant meaning to her.
It let everyone around her know, "This woman is healed. You may not think that she is the daughter of a man of status and wealth. But you're wrong. She is a Daughter of the King."
Like the bleeding woman, i found the King, too. And He too met me at my point of deepest need and called me "Daughter."
This princess needs no other title.
P.S. By the way, this is what my son got me for Christmas in 2017: