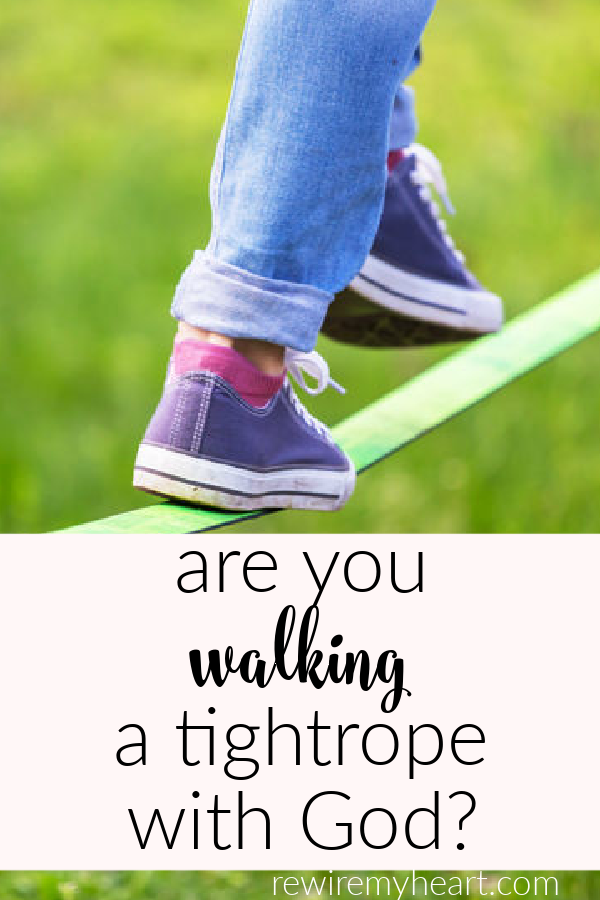 I have always been terrified of heights.
When I was on my high school cross country team, I couldn't run the bleachers. I'd get about halfway up when my stomach began to churn and everything seemed to start wobbling.
Even looking down from the second floor balcony at the mall makes me break into a cold sweat.
Call me irrational, if you will, but i prefer to embrace life with my feet firmly planted on the ground.
Yet a number of years ago, on a family vacation, my husband and kids convinced me to throw caution to the wind and tackle a high ropes course with them.
Even with a harness secured around my waist, i immediately felt those old, familiar feelings of vertigo and vulnerability.
Walking a tightrope requires total self-focus and unflinching concentration.
What if i made a wrong move? What if i thought i was making the right move, but miscalculated?
i didn't want to mess this up. i didn't want to let anyone down. i didn't want to embarrass myself. i didn't want to embarrass my family.
Then i looked over to see a poor soul on the level above me, literally frozen and stranded mid-rope. Halfway through her journey, she was afraid to take another step forward, so she did nothing. She was paralyzed.
This "walk" was supposed to be fun, but i was feeling no joy.
For most of my life, my walk with God closely resembled that tightrope walk. i believed in my head that He loved me. But in my heart, i was pretty sure that i could mess it up. i'd been given grace, but i had to work hard to keep it.
i tried very hard to get it all "right." I believed it was all up to me to figure out the next move and execute it perfectly or everything would come crashing down.
And i was feeling no joy.
a different way to walk
Last summer, God was beginning to show me a different way to walk with Him. To get off the tightrope and accept His grace. To trust Him to show me the next step.
All that performing, all that rigid rule-following suddenly was replaced with two simple words: Follow Me.
Two life-changing words that have set me free and enabled me to experience joy in the journey. But what does it mean to follow? Here's what i've been learning:
It means being intentional.
Imagine it's dark and stormy outside. Visibility is very low. You have an important destination to get to, but you don't know what it is or how to get there.
The only guide you have is the lights of the car in front of you, driven by someone who knows the way.
You are laser focused. Your eyes never leave those lights. They are your lifeline. They help take your focus off the darkness and the fear. You know that if only you focus on the light, you'll get to where you need to go.
Following Jesus is like that. He's our Guide. Only He knows where we're going and how to get there.
When we're walking the tightrope of performance and achieving outcomes, the focus is on us.
Following means intentionally keeping our eyes on Him.
Keep your head up, your eyes straight ahead, and your focus fixed on what is in front of you. Take care you don't stray from the straight path, the way of truth, and you will safely reach the end of your road. Proverbs 4:25-27
It means trust.
You wouldn't follow that car if you weren't fully trusting it would take you to the right destination.
When we follow Jesus, He proves Himself faithful on the journey. With each step, our trust and confidence grows, not in our abilities, but in His.
i'm only speaking for myself here, but trusting in my own abilities to get me to my destination is more than a little terrifying.
i'm unsure if i can accomplish the next step. i'm afraid i'll fall. i get distracted and off course. i begin to start thinking ahead and trying to figure out my entire dilemma all at once.
And i end up like my fellow tightrope walker. Paralyzed. Panicked. Frozen.
I felt like God began to say to me, "I didn't ask you to do the thing 10 steps ahead of today. You really don't even know what those will be! I asked you to do this step — with Me. The one you're on today. I'm already ahead of you, too. I'll meet you when you get there."
He doesn't leave us stranded mid-journey. He doesn't even expect us to know how to get to the other side.
He just expect us to trust that when we follow Him into the unknown, He will makes things known.
It means time.
The only way that we can really hear His voice is to spend time with Him. In His Word daily, communicating with Him like you would a friend.
If you're a mom, when your child was a baby, you knew their cry. You could be in a room full of crying infants, but you can identify your child's cry. Why? Because you spent so much time with that little one, you were so in tune with them, that their cry, their voice, was instantly recognizable.
When we spend time with Jesus, we'll come to recognize His voice, too, above all the noise.
[Tweet "God expects us to trust that when we follow Him into the unknown, He will makes things known."]
It means rest.
"Come to me, all you who are weary and burdened, and I will give you rest. Take my yoke upon you and learn from me, for I am gentle and humble in heart, and you will find rest for your souls. For my yoke is easy and my burden is light." Matthew 11:29
Living life on my own power burned me out. Over and over again, i would tell God, "Your yoke is not easy! Your burden is not light!"
But it was.
i was just too focused on the tightrope to see it.
He never expected me to figure it all out on my own. To try to achieve certain results. To do it all perfectly.
One of the most freeing truths i've ever learned is this: Outcomes are not my job. Obedience is.
My job is just to follow God's lead. To plant the seed. To seek His guidance, listen for His voice and follow His promptings.
The rest is up to Him. 
On solid ground
Are you on the tightrope, too? It's time to come down, friend.
Grasp His hand and follow His lead.
One step at a time, you'll find His grace is solid ground.
So don't be afraid. I am here, with you; don't be dismayed, for I am your God. I will strengthen you, help you. I am here with My right hand to make right and to hold you up. Isaiah 41:10