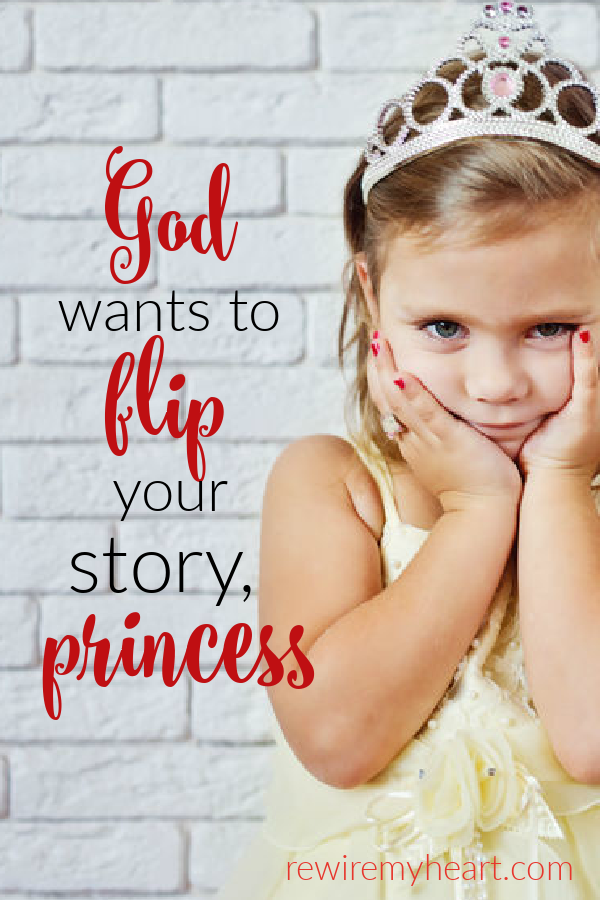 God was getting ready to do something amazing in my story. i just couldn't see it.
We rarely can, can we? Thoreau once wrote that "the mass of men lead lives of quiet desperation."
Can you relate? We slog through long stretches — maybe years — of pain and difficulty and we become convinced nothing will ever change. We become resigned to living a life of mere survival.
But God … is the greatest storyteller EVER.
God is the God of the flip.
Let me explain.
We read the Bible and we know that God does amazing things. But i think we sometimes don't truly believe that HE wants to tell an amazing, epic story in our lives.
Great stories of faith and deliverance are reserved for people like Abraham and Joseph and Esther, right? Fairytales are for children and moviegoers.
God doesn't write those kind of stories anymore, at least not for regular, ordinary people like you and me, right?
Wrong.
i used to belive that, too. Years of hardship and disappointment wore me down. Mundane tasks and crushing pain and demands drained me of all my joy. Fairytale? Epic story? Ha! i was happy if i could just somehow survive the day.
Maybe that's you too. Perhaps you think God has run out of ink somewhere along the way as HE wrote your story. Maybe you believe it's taken a dark turn that can never be redeemed. Maybe you feel you've messed it up so badly that i can't be rewritten.
We often give up on parts of our story when GOD simply isn't done yet. HE wants to breathe new life into the action. We think a pause or a dark detour is the end.
i know at parts in my journey — one  that has been littered with deep physical, spiritual and emotional brokenness — i would hear people talk about how GOD restores things.
And HE does.
But sometimes i would wonder … how can HE restore things that were never whole to begin with … that started out broken and dysfunctional? i thought about my marriage. My parenting.
How? Because HE is Creator. HE created the universe in six days, sweet sister. He can surely create something entirely new in your story.
He can breathe new life into what appears dead. In fact, something has to be dead in order for new life to be breathed into it. We have to die to self, to our dreams, to trying to write our own story. We have to quit release the pen to the Storyteller.
Isaiah 43:19 says, "For i am about to do something new. See i have already begun! Do you not see it? I will make a pathway through the wilderness. I will create rivers in the dry wasteland.
[Tweet "We often give up on parts of our story when GOD simply isn't done yet."]
eyes to see
i think about the story in Luke 24. Jesus had just been crucified. So many thought that He would be an early kingdom and save them from a tyrannical Roman government. They expected that He would set up an early Kingdom and be their salvation.
And then HE was brutally murdered. That was not what they expected. It wasn't going according to their plan.
But Jesus was alive. He had risen from the dead and He appeared to two men walking the road to a town called Emmaus.
These two men were discussing Jesus's death and all that had happened the previous few days.
And Jesus met them right there in the midst of their confusion and sorrow. He began to talk with them, teach them and share His heart. They just didn't recognize Him. 
GOD was doing something new. Jesus was ALIVE, walking right beside them. They just didn't perceive it. It was not until His last few moments with them that their eyes were opened. "As they sat down to eat, he took the bread and blessed it. Then he broke it and gave it to them. Suddenly, their eyes were opened, and they recognized him." (Luke 24:30-31)
God was flipping the story. Bringing life from death. Condemnation to redemption. Through His Son. 
How often is God walking with us through our pain and difficulty, doing things we don't understand, and we just don't recognize Him? How often is He flipping the story, but we just can't see?
Isaiah 61:3 is a verse GOD has spoken over me again and again: "To all who mourn … HE will give a crown of beauty for ashes, a joyous blessing instead of mourning, festive praise instead of despair. In their righteousness, they will be like great oaks that the Lord has planted for His own glory."
a story of life and love
What is the story GOD is telling about? i think it can be summed up into two words: Life and Love.
We are royalty, ladies. Daughters of the King. But the story of a princess isn't just about her life and love. There's always much more at stake in the story: The Kingdom, the fate of others. He wants to use you to change the lives of others for eternity.
And how does every fairytale end? With Happily Ever After. We are guaranteed a Happily Ever After (Eternal Life) when we know the King.
He came in the form of Love — His precious Son — so that we could have Life here and have it more abundantly. Right here on earth in the midst of the pain and confusion and difficulty.
Each of our stories is unique. GOD is the Storyteller. He CREATES. That is what HE does.
satan* is a copycat. he doesn't create. he tries to fit us into boxes. GOD is Father of Creation. satan is the father of formulas.
The enemy gets us to look at each other as competition instead of collaborators!
We are princesses in HIS royal court and we all have a role to play in His big, beautiful story. Some parts may seem bigger and flashier than others, maybe more important. But there are no small roles. We are all invaluable in the body of Christ.
sitting at the King's table
Life can drain the princess right out of us, though, can't it?
It can make us settle for crumbs from the King's table instead of the feast HE's prepared for us.
God's story is not predictable because HE is not predictable. HE never has been. And HE never changes. But HIS ways are so much higher than our ways that we won't ever be able to make sense of what HE is doing unless HE gives us eyes to see it.
HE wants to do amazing fantastic things in our lives. He wants us to play an exciting, sweet role in the action of HIS greater story.
He has given us a role only we can fill. A role no one can steal from us. "For we are God's masterpiece. He has created us anew in Christ Jesus, so we can do the good things he planned for us long ago." Ephesians 2:10 (NLT)
All things that He allows or writes into our story He will somehow use for our good and HIS glory. Because those things often enable us to see Him more clearly and know Him more deeply. And that is always going to be for our good and HIS glory. They are one and the same!
The Master Storyteller is the God of the flip, Princess. Your story isn't over.