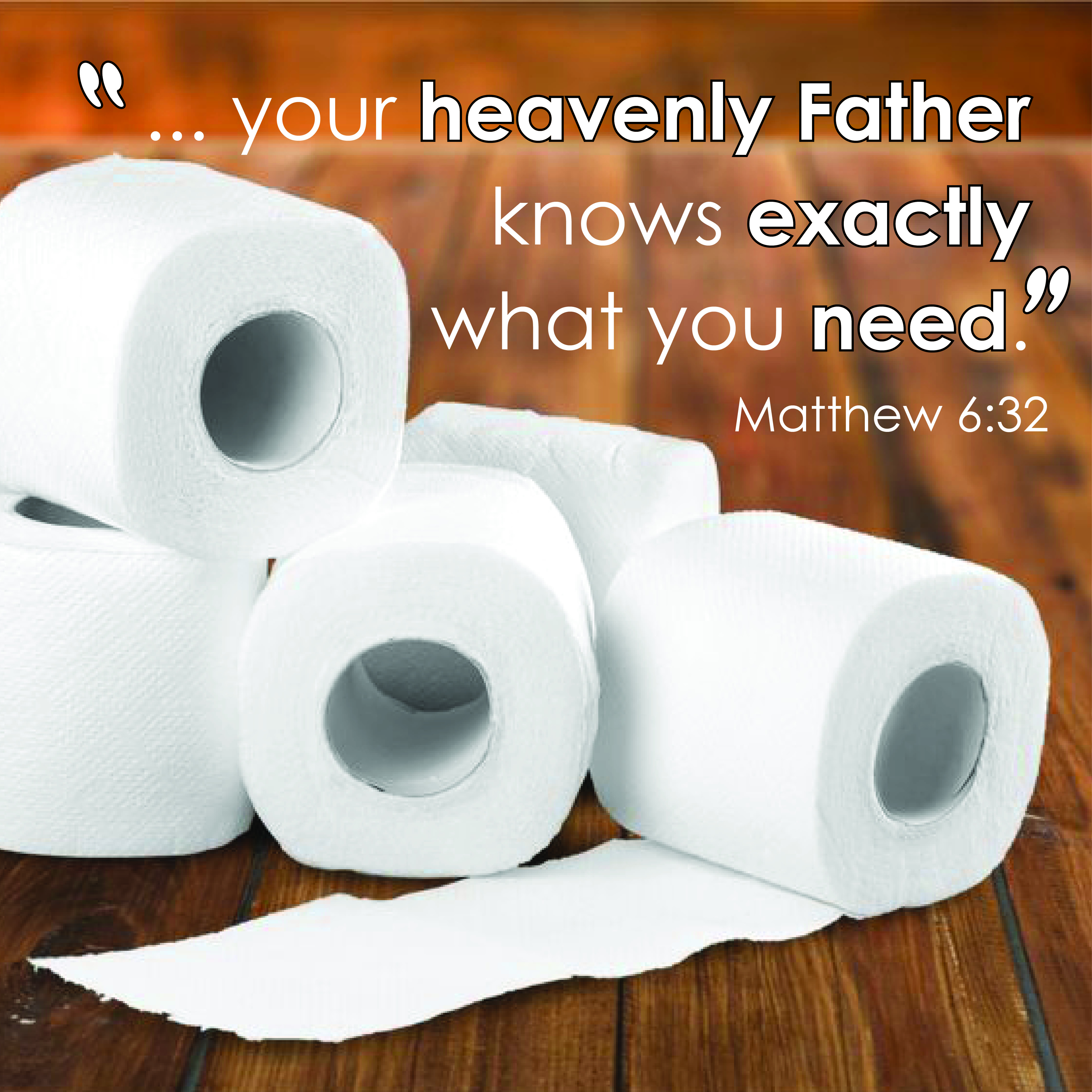 Last night my son — now home from college for both spring and summer thanks to COVID-19 — shared something incredibly unsettling that he had done. For a split-second, I nearly disowned him.
What horrible act had he committed?
He had accidentally dropped an entire roll of toilet paper in the toilet! I gasped, knowing our limited supply is quickly dwindling, and said (only half-joking), "What?! Don't you know that's like GOLD, son?!!"
Over these past few weeks where it seems the world has gone mad and every store I go to has row after row of empty shelves, I have had some very real moments of panic. Moments when my mind wandered into a future full of what-ifs. It was a frightening place to visit. Anxiety began to well up inside of me. I knew I couldn't "camp" there.
I've had to repeatedly remind myself that God has always met my and my family's needs. Through chronic illness and other serious medical needs, through a major hurricane, through the loss of people I love, through times so painful I thought I wouldn't survive (and wasn't sure I wanted to), He has always met my needs.
Jesus never promised an easy life, but He did give us solid promises. He promised that He would never leave us or forsake us. No one else, no matter how much they love us, can deliver on that promise.
He also gives us this beautiful promise from Matthew 6:
Look at the birds of the air; they do not sow or reap or store away in barns, and yet your heavenly Father feeds them. Are you not much more valuable than they?

So do not worry, saying, 'What shall we eat?' or 'What shall we drink?' or 'What shall we wear?'… your heavenly Father knows that you need them. But seek first his kingdom and his righteousness, and all these things will be given to you as well. Therefore do not worry about tomorrow, for tomorrow will worry about itself. Each day has enough trouble of its own.

Matthew 6:26, 31-34 (NLT)
Some of our worries may materialize. We should wisely prepare for the future.
However, personally, I so often try to prepare for my future needs without consulting the only One who knows the future. Only He knows what any of us will truly need in the days ahead.
Jesus promises to walk us through our current struggles. He give us His strength as we focus on Him.
When we worry about tomorrow, we carry that burden alone. We don't know what tomorrow holds, so we try to carry burdens that may not even exist! God cannot help us with non-existent or "theoretical" burdens. But He promises to meet us in the present as we call on Him. And I can tell you from experience, His presence is far sweeter than any material thing He provides.
This is not "pie-in-the-sky" thinking. You can count on His solid promises. They are promises I've personally seen Him deliver on, time and time again, in the darkest of times.
I don't have to know HOW He'll provide. I just know that He has, He is and He will.